Ask a Librarian
Research librarians are a valuable resource for TCU students, faculty and staff. You are encouraged to call upon the reference staff for:
Locating specific factual information
Assistance in using the library catalog
Help in submitting interlibrary loan requests
Instruction in the use of databases
Access to U.S. federal resources, Texas documents, and European Union resources
Suggestions for locating resources external to TCU
Any other informational question you might have
Faculty may also schedule a library instruction session for a class.
Get in contact with us
---
Visit us in person
Library staff are available to assist in person or via phone, text, email and chat during the following hours:
Monday-Thursday: 8am-9pm
Friday: 8am-5pm
Saturday: 10am-6pm
Sunday: 11am-8pm
Come to the Reference Desk (map) or contact a subject specialist.
Email us
Use our online form to contact us via email.
Call or text us
Call the TCU Library Reference Desk at 817.257.7117 or find who you want to call in the staff directory.
Have a question that needs a short answer? Use your cell phone to text the library with your question at 866.998.2428 and a librarian will respond to your question with a text.
During our normal reference desk hours, you will receive a prompt reply. Messages sent outside of normal service hours will be answered the next day the library is open. Standard messaging rates apply.
Chat with us
Chat online with a TCU Librarian by using the chat box on the home page or in the sidebar of every page.
Find your research librarian
---
Choose your subject from the drop-down menu first.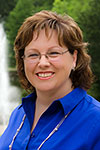 Cari Alexander
Music/Media Librarian
Phone: 817.257.7667
Email: c.alexander2@tcu.edu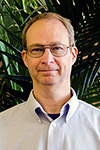 Charles Bellinger
Religion and Philosophy Librarian
Phone: 817.257.7668
Email: c.bellinger@tcu.edu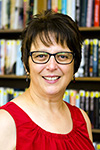 Diana Boerner
Business Librarian
Phone: 817.257.5336
Email: d.boerner@tcu.edu
Chat with Diana (opens in new window)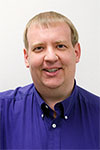 Jeff Bond
Scholarly Communication Librarian and Science Research Liaison
Phone: 817.257.7107
Email: j.bond@tcu.edu
Chat with Jeff (opens in new window)

Ammie E. Harrison
Humanities and Theatre Research Librarian
Phone: 817.257.5338
Email: a.harrison@tcu.edu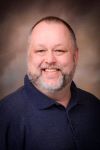 John Humphrey
Head of Reference & Instruction
Phone: 817.257.5430
Email: JOHN.HUMPHREY@tcu.edu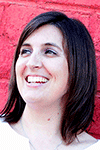 Robyn Reid
Social Sciences Librarian
Phone: 817.257.5337
Email: r.reid@tcu.edu
Chat with Robyn (opens in new window)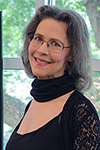 Laura Ruede
Dance Research Librarian / Van Cliburn Archivist
Phone: 817.257.7774
Email: l.ruede@tcu.edu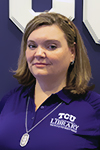 Alysha Sapp
Nursing & Nurse Anesthesia Librarian
Phone: 817.257.5348
Email: alysha.sapp@tcu.edu
Chat with Alysha (opens in new window)

Laura 'Lily' Steinbach
Art & Design Librarian
Phone: 817.257.7311
Email: l.steinbach@tcu.edu
Library FAQ
---
Search the FAQs
Top 10 FAQs
FAQ Topic Cloud
Subject Research Librarians