Amon G. Carter Papers
Overview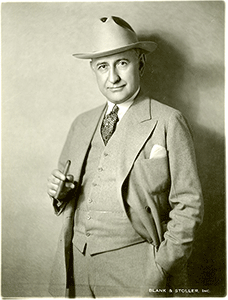 Amon Giles Carter (1879-1955) was a well-known and respected business leader in Texas and across the country. Though he is perhaps best known as a pre-eminent newspaper publisher of the Fort Worth Star-Telegram, he was also very successful in the oil, cattle, and radio/television businesses. He also established WBAP, Fort Worth's first radio station, which later became the first television station in the Southwest in 1948. Carter's friends and colleagues included the most prominent names in government, business, industry, and entertainment. Carter's philanthropy touched both individuals and institutions. He gave to educational institutions, hospitals, museums, churches, parks, and camps, some of which bear his name today. Carter was a major influence in the establishment of Texas Tech University and was a major contributor to Texas Christian University. He led a statewide campaign that resulted in the creation of Big Bend National Park. An avid proponent of the airline industry, he brought the headquarters of South West Air Corporation, later known as American Airlines, to Fort Worth, and secured government funding for a local aircraft factory that is known today as Lockheed-Martin.
The Amon G. Carter Papers consist of correspondence, photographs, newspapers, scrapbooks, and artifacts. The papers document the social, cultural, and business history of Fort Worth, Texas, and the Southwest, as well as Carter's personal and business interests. Please contact Special Collections with any questions regarding the finding aid or the papers.
The Emperor of West Texas: Digitizing the Amon G. Carter Papers
The Mary Couts Burnett Library at TCU and the UTA Library Special Collections, with support from the NHPRC, collaborated on a project to digitize and provide metadata for 34.5 linear feet of papers and 5000 photographic negatives documenting the life of Texas businessman Amon G. Carter (1879-1955).
Combined, the collections at TCU and UTA reveal a deep wellspring of Carter's business and personal accomplishments and his single-handed efforts to shape the national and world perception of Texas in the early twentieth century.
Digitized materials are available and searchable through a jointly managed web portal. The purpose of this project is to provide online access to these collections and encourage fresh scholarly examinations of Carter and his influence on Texas and the nation.