Databases by Subject/Topic:
Graphic Design
Best Bets for Graphic Design
---
A broad range of related subjects from fine, decorative and commercial art, to various areas of architecture and architectural design. This resource searches the content of these well known art resources: Art Index Retrospective, Art Index and Art Abstracts.
Coverage dates:
1937-present.
A massive multidisciplinary resource with an abundance of full text. Abstracts and indexes 10,000+ journals and includes the full text of 6,500+ journals. 9000+ of the journals are peer-reviewed.
Coverage dates:
Varies.
Online full text of The Dictionary of Art and The Oxford Companion to Western Art. It is a reference and biographical resource for all aspect of worldwide visual arts from prehistory to the 1990s. Many articles have been updated since the original publication.
Limited to 3 users at once.
Coverage dates:
Current.
More databases for Graphic Design
---
More than one million images from outstanding museums, photographers, libraries, scholars, photo archives, and artists and artists' estates from all over the world. Subject areas include art, architecture, music, religion, anthropology, literature, world history, American Studies, Asian Studies, Classical Studies, Medieval Studies, Renaissance Studies, and more.
Provides biographical information and major accomplishments for more than 1.4 million individuals worldwide. Often referred to as Who's Who.
Limited to 5 users at once.
Coverage dates:
1607 - Current.
Includes biographical material from authoritative reference works, full-text newspapers, journals, and video and audio clips from NBC and NPR
Comprehensive global coverage of the history, theory and practice of crafts and design.
Coverage dates:
Prehistoric times to the present.
Contains citations and abstracts from over 500 design and craft journals and newspapers. Research articles, news items, conference and seminar reports, book, video and exhibition reviews are covered. Both new designers and the development of design and applied arts are covered.
Coverage dates:
1973 - Current.
Cross-disciplinary, scholarly electronic journal collection containing the full text of back issues of journals in many different subject areas. Also includes thousands of eBooks. Especially strong in Arts and Sciences.
Coverage dates:
Varies.
Rock and roll, counterculture, peace and protest.
Coverage dates:
1950-1975.
First ever scholarly, primary source database focusing on adult comic books and graphic novels. Beginning with the first underground comix from the 1960s to the works of modern sequential artists, this collection will contain more than 75,000 pages of comics and graphic novels, along with 25,000 pages of interviews, criticism, and journal articles that document the continual growth and evolution of this art form.
Coverage dates:
1960s to present.
Leading source of up-to-date information about over 34,000 influential people from all walks of life, worldwide. Who Was Who collects together the entries of nearly 100,000 people, now deceased. Provides fascinating insights into the private lives of public figures with detailed information for each person.
Limited to 3 users at once.
Coverage dates:
1849 - Current.
Subject Specialist for
Graphic Design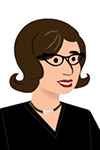 email:
l.steinbach@tcu.edu
phone:
817.257.7311
Database Legend
Available to current TCU students, faculty, and staff.

Available to TCU faculty, staff, and grad students only.

Available to Brite students, faculty, and staff only.

Available to Clark Society members.

Available to all patrons.