Databases by Subject/Topic:
Art & Design
Best Bets for Art & Design
---
A broad range of related subjects from fine, decorative and commercial art, to various areas of architecture and architectural design. This resource searches the content of these well known art resources: Art Index Retrospective, Art Index and Art Abstracts.
Coverage dates:
1937-present.
More than one million images from outstanding museums, photographers, libraries, scholars, photo archives, and artists and artists' estates from all over the world. Subject areas include art, architecture, music, religion, anthropology, literature, world history, American Studies, Asian Studies, Classical Studies, Medieval Studies, Renaissance Studies, and more.
Online full text of The Dictionary of Art and The Oxford Companion to Western Art. It is a reference and biographical resource for all aspect of worldwide visual arts from prehistory to the 1990s. Many articles have been updated since the original publication.
Limited to 3 users at once.
Coverage dates:
Current.
More databases for Art & Design
---
A keyword searchable archive of photos, graphics, text, and audio from the Associated Press.
Coverage dates:
1840 - Current.
Provides integrated text and image content on world dress and fashion throughout history. Useful to scholars, students, professionals, and anyone interested in dress, it includes the Encyclopedia of World Dress and Fashion, an extensive E-Book collection, a vast image bank, extra reference resources and more.
Coverage dates:
From early times to present day.
Comprehensive global coverage of the history, theory and practice of crafts and design.
Coverage dates:
Prehistoric times to the present.
Humanities Full Text
includes many important academic journals in the humanities with the full text of articles from over 300 periodicals dating back to 1995, and indexing for almost 700 journals, 470 of them peer-reviewed, dating back to 1984. The database also includes original works of fiction, drama, and poetry.
Coverage dates:
1984 - present.
Cross-disciplinary, scholarly electronic journal collection containing the full text of back issues of journals in many different subject areas. Also includes thousands of eBooks. Especially strong in Arts and Sciences.
Coverage dates:
Varies.
Contains the entire run of Vogue magazine (US edition), from the first issue in 1892 to the current month. Every page, advertisement, cover and fold-out has been included, with rich indexing enabling you to find images by garment type, designer and brand names.
Coverage dates:
1892 - Current.
Subject Specialist for
Art & Design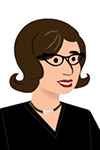 email:
l.steinbach@tcu.edu
phone:
817.257.7311
Database Legend
Available to current TCU students, faculty, and staff.

Available to TCU faculty, staff, and grad students only.

Available to Brite students, faculty, and staff only.

Available to Clark Society members.

Available to all patrons.